MRP glossary TOP > Material Planning > MRP List
MRP List
The plan list is used for performing MRP. In the list, the horizontal direction means "period" and the length of period (usually expressed by the number of days) is different depending on the company. On the other hand, the vertical direction has items necessary for MRP lined from the top according to the procedure.
Goss requirements:

It is the total amount, by period, required as upper-level items and service parts.

Released order (order to be delivered):

It means that the order of purchase was made, or that the manufacturing instruction of manufactured item was made. The order is scheduled to be delivered in the period set here.

Available stock:

It is the quantity of stock which can be used for each period. The current stock is displayed at the left side of Period 1.

Net requirements

It is requirements calculated by deducting released order and available stock from gross requirements. The quantity shown here is the one for which allocations were made and its logistics is needed.

Scheduled order (delivery time)

It is the order made by lot sizing. The order is scheduled to be delivered in the period set here.

Scheduled order (start)

It calculates the lead time of order shown in the delivery to fix the date to be launched, and then sets the quantity in the period.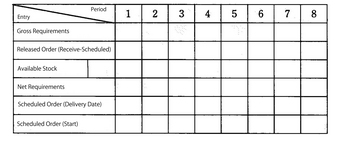 Related term:
MRP
Reference:JIT Business Research Mr. Hirano Hiroyuki