MRP glossary TOP > The System-wide Function of MRP Production Control System > A Production Control System in Perspective
A Production Control System in Perspective
An enterprise has a wide variety of functions. Its business activities are implemented by connecting one another for a better harmony with them, allowing it continue as a going concern. Generally, basic functions relating to the corporate activities are seen as systems, which are mainly categorized into the following five ones:
Management system

The system performs the corporate control and governance so that each function the enterprise has can work harmoniously with each other. The main mission is to manage human resources, and to draw up management structure plans as well as business plans indispensable for its future development.

Selling system

The system mainly performs market researches, management of the company's customers and distributors, its inventory control, and its order management in order to improve customer service, expand its market share , and increase its sales volume.

Production system

The system makes an effective use of production materials of human resources, raw materials and facilities to perform the engineering, purchasing, and producing activities so that it can produce adequate products to meet certain conditions (in quantity and delivery time) at the lowest cost.

Product distribution system

The system functions as a supplementary means in such activities as product positioning, sales promotion, and product distribution, and performs various activities including packing, loading/unloading, shipping, storing and communications, in order to supply more adequate products to the company's customers.

Financial system

The system controls and governs the activities of obtaining and utilizing the company's capital in order to facilitate its business activities over the long or short term.
Recently, the production system of manufacturing companies have been functionally fragmented in a remarkable manner, in accordance with rapid technological innovation. Such fragmentation has been notably seen in the engineering and producing fields. In other words, the production system can be said to consist of three systems: production control system (planning and administration divisions), engineering system (engineeriing division), and manufacturing system (manufacturing division).
Production control system

The system performs planning and management activities to make the effective use of human resources, raw materials, and facilities based on the order information received from customers.

Engineering system

The system uses computers to engineer manufacturing technologies and processes as well as products according to customers' specifications. It is commonly called CAD/CAM system (Computer Aided Design/Computer Aided Manufacturing System).

Manufacturing system

The system automatically uses automatic machine tools, robots, etc. to perform processing and assembly operations in response to the production schedule information and manufacturing technology information received from production control system and engineering system, respectively. This is an automation system for high-mix low-volume manufacturing, commonly called FMS (Flexible Manufacturing System).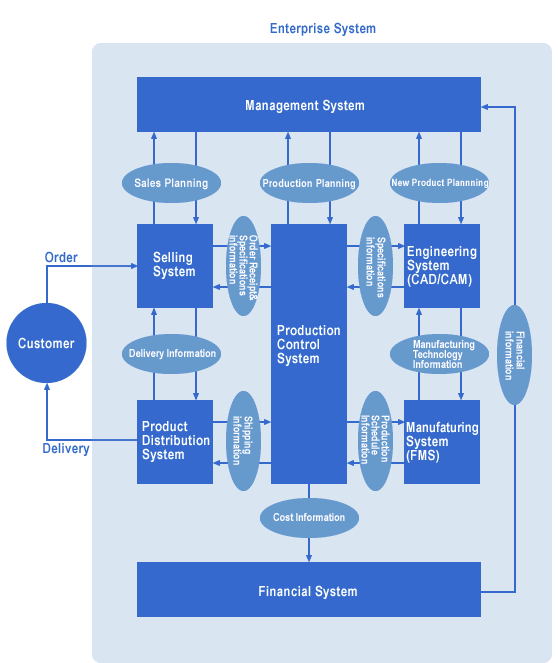 FIG. 1: How a production control system works in an enterprise system
When an enterprise is seen as a large system, each function which works individually as a basic function in the enterprise's activities relates to each other as depicted in the FIG. 1.
Reference:JIT Business Research Mr. Hirano Hiroyuki
The System-wide Function of MRP Production Control System | The relationship among functions in the whole production control system