MRP glossary TOP > The functional roles an MRP production control system performs > Quality Control
Quality Control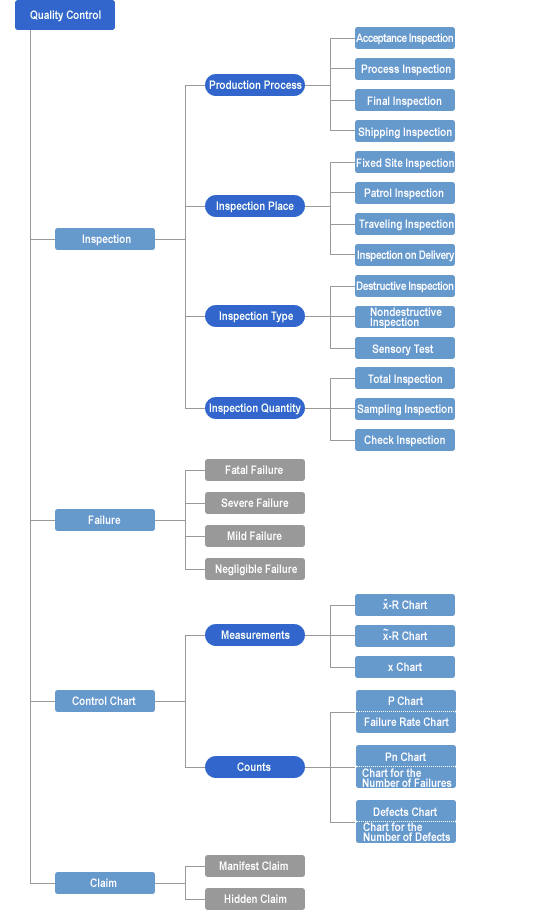 Work descriptions:

Producers need to keep thinking about how to make better quality, more economical product.This is exactly what the manufacturing focus.
Quality can be divided into 3 kinds, market quality, design quality (target quality), and production quality (reflected in the quality).
In particular, production section need to control the production quality, that is how to produce the target quality product at minimum cost.
In small-scale enterprises, there is rarely hand that specially responsible for quality management, general director of the workshop or factory manager hold as part-time position. And at medium-scale enterprises, sometime inspectors are in charge of quality control as a part-time job, sometime there is a quality management section.
In any case, the members in product quality management section usually be less than other sections.

At first, the small number people must establish internal quality management regulations, add such as inspection, make management charts as daily work into the actual implementation. Also, they should do education, training and guidance.

Problems:

Quality control usually has the following problems.
1 Quality awareness is low, many people think no serious even if some defect.
2 Products of varying quality, many inferior products, but neither know the reason nor how to analysis.
3 Customers complaint a lot about inferior products, company just deals with in sight problems but never solve fundamentally.
4 When delivery, disputes often happened with distributors due to quality problems.

Functions:

Based on process test results, make management table to keep the process statistics management.
For products produced in the factory, make x-R management table and P management table according to process test and final test results. And, according to outside-produced products and processes test results, do data analysis
by items, processes, inferior products, make various kinds of quality analysis table. Further more, according to the complaint information, do analysis by products, customers, and complain contents.
Tips for MRP

[Question 1.]
Cite five information items necessary for MRP setup for the manufacturing plan of a product, and explain their descriptions briefly.

...
Do you know what it is? It seems like a test.
Yes! You are exactly right. It is a question about "material and purchasing control" in the first-stage test of the SMEC (Small and Medium Enterprise Management Consultants) examination carried out in 1982. Apparently, you cannot be a consultant for SMEs (small and medium enterprises) without studying and understanding MRP. As the question shows, MRP has been adopted by many SMEs. It can be said that MRP has finally become widely accepted by them. The biggest reason why they have quite rapidly employed MRP recently is "the computer technology innovation", which is mainly based on the development of semiconductor. It can be also expressed as "the theory of doubling semiconductor", which means that the integration degree of transistor in one LSI chip has doubled every year. One million transistors are now contained on a single ultra LSI chip.
At the result, the relative price of computer has been lower and lower, which enables SMEs to install a computerized system relatively easily. This trend is increasingly expanding into such fields as industrial robots and office equipment.
The person in charge of inspection may also work for quality control or as a member of quality control section. At any rate, there are fewer employees in the division responsible for manufacturing quality control than in other divisions. At first this small number of persons establish a company standard and implements daily routine such as conducting measurement inspections or preparing control charts by incorporating them in the actual tasks of production site. The person in charge of quality control also performs management, education/training, guidance, and other tasks.
Reference:JIT Business Research Mr. Hirano Hiroyuki
Manufacturing Process Control | The functional roles an MRP production control system performs | Cost Control