MRP glossary TOP > The functional roles an MRP production control system performs > Production Plan
Production Plan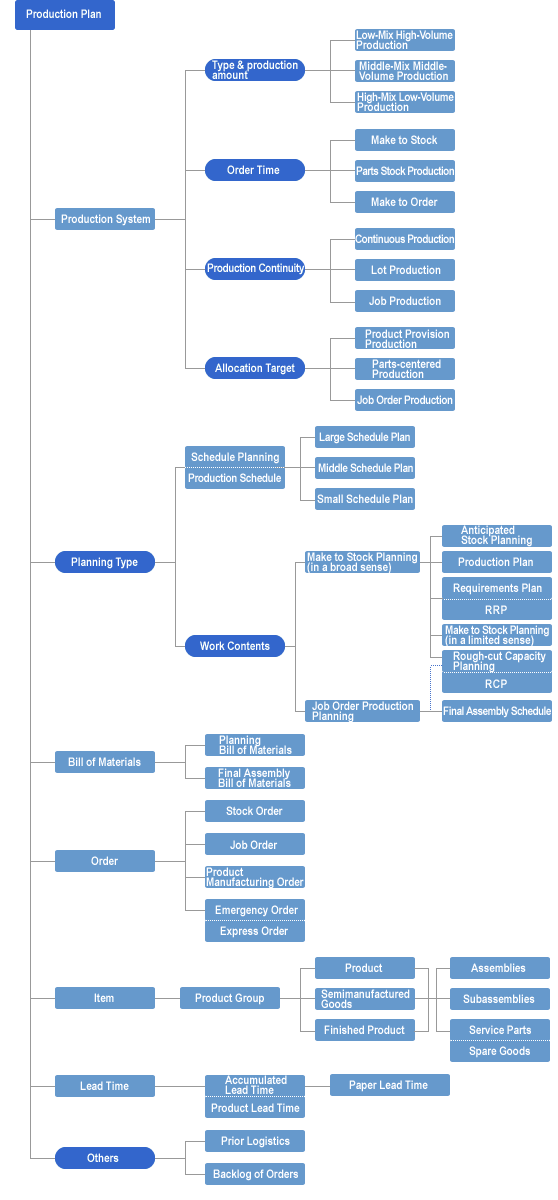 Work descriptions:

There are generally long-term and short-term production plans in manufacturing companies. The former includes facility plans, development plans for new products, and employment policies in light of the economic situation and economic trends. The production control system usually makes short- term plans whose period is from six months to one year. These plans are often made by the planning or administration sections of the operations division. The section in charge organizes the production plan based on the sales plan submitted by the sales division by considering the manufacturing abilities, time for releasing new products, and other situations, and then forms the plan.

Problems:

Possible problems in the production plans system are as follows:
1. The submission of sales plans are delayed, causing the manufacturing activities to start without adequately consulting with the production division.
2. The delivery time is often very short, ambiguous, or set too late, resulting in frequent rearrangement of planning and delayed delivery.
3. Sufficient consideration of the factory's production capacities is not made, and therefore the production plan lacks credibility.
4. The plan is too often emergent, unscheduled, and urgent, which causes the site confusing due to the difficult change in plan.
5. The main materials are not well-stocked and too much time is taken for the confirmation, and thus additional and unscheduled orders are not properly handled.
6. The plans are too often changed, and thus all notifications about the production amount, the delivery time, and the specifications change are difficult to send to the related divisions at an appropriate time.

Functions:

It draws up a production schedule using the potential orders, which are prepared considering the received orders submitted from the sales division and demand forecast, and maintains it. Considering product load including processes producing bottlenecks, it makes a rough plan of production capacities for the product, rearrange the production of overload products, and then fixes the production plan.
Reference:JIT Business Research Mr. Hirano Hiroyuki
Order Receipt/Shipping control | The functional roles an MRP production control system performs | Inventory Control