MRP glossary TOP > The functional roles an MRP production control system performs > Order Receipt/Shipping control
Order Receipt/Shipping control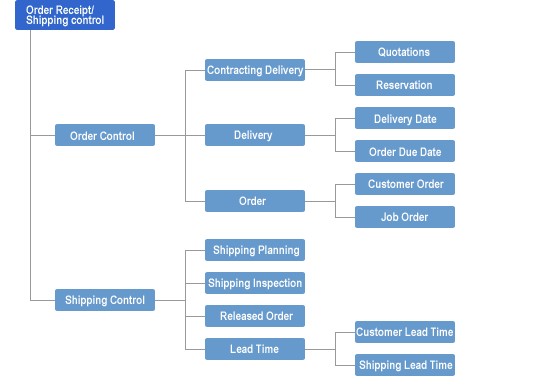 Work descriptions:

Generally, looking at the aspect of an organization, most of companies have its sales division and production division independently, enabling each division to focus on selling activities and producing works, respectively. The sales division is usually responsible for the order receiving and shipping works in small-to-midsize firms. But, in enterprises where the sales division is structurally independent as a sales company, these works are handled by such divisions as management, engineering, and distribution. Here the order information received from customers is sent as an inquiry or job order from the sales division to the production division, in response to which a service is provided. In addition, the specifications, quality, price, delivery time, the amount of the product ordered received from the sales division are required to be ensured.

Problems:

Possible problems in the receiving orders/shipping control system are as follows:
1. Answers to the inquiries from customers are not adequate because of the lack of information of the production capacities and the inventory status of materials.
2. Some deliveries are delayed and some opportunities are lost because the information of additional orders and cancels are not precisely reflected in allocation for the inventory of materials.
3. The changes in received orders are not properly reflected to the production planning, which causes some troubles in the site.
4. Answers to the inquiries on orders from customers are not adequate because of the lack of information of manufacturing situation.
5. The shipping instructions are not clear, disrupting the shipping planning and handling. 6. Integration with the product distribution system is not available, making the transportation programming difficult.

Functions:

It receives orders from customers, fixes the delivery time and amount of products, and prepare the order form while responding to the inquiries from them. It also confirms the date of delivery to the customers according to the production situation, prepare the shipping, and gives shipping instructions.
Reference:JIT Business Research Mr. Hirano Hiroyuki
The relationship between the production control system and other divisions | The functional roles an MRP production control system performs | Production Plan