MRP glossary TOP > Material Planning > MRP
MRP
Material Requirements Planning
MRP stands for Material Requirements Planning. It is a method of material planning which has been rapidly and widely used since APICS (American Production and Inventory Control Society) advocated it in 1970. Regarding dependent demand items such as assemblies, parts, and raw materials, the scheme is, as shown in the figure, to perform logistics planning for the purpose of buying or manufacturing "necessary goods (Item) of as much/many as needed (Requirements) at the necessary time (Delivery)", based on the product's production plan made. Thus MRP mainly needs three types of information in order to prepare the logistics planning for dependent demand items: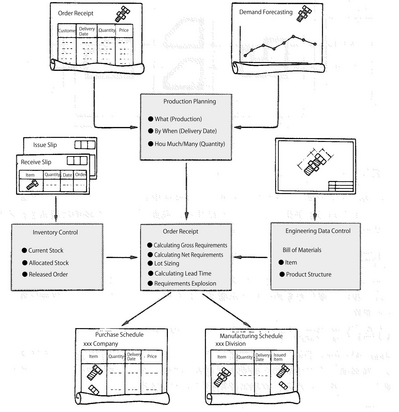 Production plan:

It is a production plan for independent demand items such as products and service parts, and is called master production plan or MPS standing for Master Production Schedule. MRP makes a plan for dependent demand items based on this plan.

B/M (Bill of Materials):

B/M is utilized to explore (explore) the items to be used ranging from independent demand items to dependent demand ones, or from assemblies to raw materials among dependent demand items. The basic data including physical unit, lead time, and lot size necessary for material planning is required to be set in Bill of Materials.

Inventory/Released Order:

Such data as current inventory, released orders, in-process items is required to calculate net requirements based on the calculated requirements for each dependent demand item.
Using these data, MRP performs five functions below to make logistics planning for dependent demand items: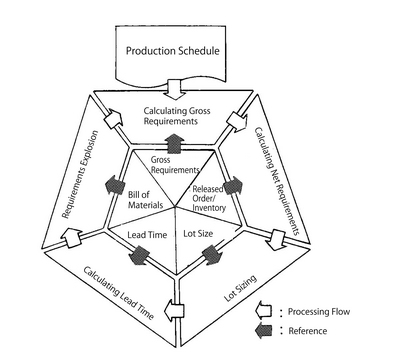 Calculating gross requirements:

It calculates gross requirements by period by sizing the amount, which is required for each dependent demand item, to a certain period unit.

Calculating net requirements:

It calculates net requirements necessary every period by using the calculated gross requirements to make allocations to inventory and released orders.

Lot sizing:

It sizes calculated net requirements by period to the quantity which is the most suitable for the logistics by using the lot size set to the item.

Calculating lead time

It calculates the order date or the start date by deducting lead time from the delivery date of lot-sized quantity, and then completes the order form.

Requirements explosion:

It calculates requirements of explored items by exploring the order made using Bill of Materials to low-level items, and then referring to the physical unit set in product structure.
MRP performs these five functions for all dependent demand items level by level in descending order of level of item, and ends at the time of the end of handling for the lowest-level item.
Reference:JIT Business Research Mr. Hirano Hiroyuki
Material Requirements Planning | Material Planning | MRP List