MRP glossary TOP > C > Calculating Variable Lead Time
Calculating Variable Lead Time
It is a method for calculating a lead time, in which the lead time is changed according to the lot size. The time for logistics, transfer, and etc. which are set for an item is usually thought to be fixed, and the variable lead time can be obtained by the following formula with the actual operation time per piece:
Planned Release Date = Delivery Date - [(Waiting + Setup + Post-Processing + Transfer) + Order Requirements x Actual Operating Time per 1 piece]
This method is effective for the case where the set order requirements fluctuated frequently like in Lot for Lot or Fixed Period Requirements.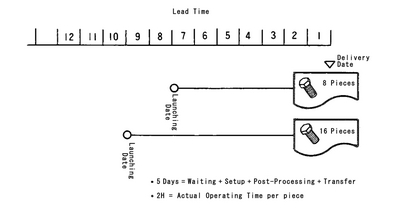 Related term:
Calculating Lead Time
Reference:JIT Business Research Mr. Hirano Hiroyuki