MRP glossary TOP > C > Constructive Receive/Issue
Constructive Receive/Issue
Automatic Receive/Issue
Receive/Issue is classified into the one with slips and the one without slips. The former is usually Receive/Issue, while the latter is Constructive Receive/Issue or Automatic Receive/Issue. In the Constructive Receive/Issue, any receive/issue slips are not actually used, but on the ledger sheet, the procedures are processed as if the slips were used. This is used as a simpler method for the case where the lead time from providing parts and materials to completing the upper-level items and products is relatively short.
This method is also divided into Constructive Receive and Constructive Issue. The former is a method where the receive is regarded to have been done according to the performance report. For example, when purchased parts are delivered and their acceptance inspection is performed, they are regarded to have been entered a warehouse and then added to the inventory. As for manufactured items, the quantity of finished items on the manufacturing report chart is regarded as the quantity of items which were entered a warehouse.
The Constructive Issue has the same story. The quantity of lower-level item necessary for the quantity of finished upper-level item is regarded to have been taken out of a warehouse and used, and then is subtracted form the inventory. As shown on the manufacturing report chart in the figure, for example, according to the fact that the quantity of finished Product Z is 10, 10 pieces of Item Z are regarded to have been entered a warehouse, while the requirements of Item a and b are calculated by the data of B/M, and each calculated quantity (a is 10, and b is 20, respectively) of item is regarded to have taken out of the warehouse.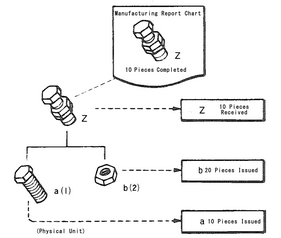 Antonyms:
Receive/Issue
Reference:JIT Business Research Mr. Hirano Hiroyuki